Dolphin Swim Orlando
Important advice to dolphin lovers:
book early… there are a lot of you out there! 1-407-378-7808
Pricing
---
Dolphin Swim & Full Day Amenities – 6 years+ Starts from
$275* 
Adult Observer & Full Day Amenities – 3 years+ Starts from
$225* 
Baby Observer (0-2 years old)
FREE
*Plus 6% sales tax
Variable Rates (Click for Pricing Button for Exact Rates)
LOW SEASON RATE is from January to February, May, September to December
HIGH SEASON RATE is from March to April, June to August
All Sales are Pre-Paid

When booking through our Discovery Cove affiliate link, please make sure to pick Signature Dolphin Swim Package for program participants. For any non-participants or observers in your party, they must select the Day Resort Admission Package option.
Orlando
---
You will spend the day at Discovery Cove in the heart of Orlando near Sea World and International Drive. During the Orlando Dolphin Swim Program, you will have a chance to get up close and personal with a dolphin. You will splash, touch, interact and play with the dolphins in this shallow and deep-water marine adventure.
Plus, you will have access to other fantastic fun and amenities such as  unlimited food & drinks, white sandy beaches & tropical lagoons, wetsuits & snorkel gear, snorkeling with tropical fish & rays, the opportunity to hand-feed tropical birds, up-close animal encounters, winding rivers & waterfalls, and sunscreen & towels.
Availability
---
The Dolphin Swim Program in Orlando is available 7 days a week, except from November to February. From November to February, you will need to go to the booking calendar and see which dates are available or call us. Same day reservations are NOT available due to space limitation. You will need to make your reservation either online or by phone at least 24 to 72 hours in advance.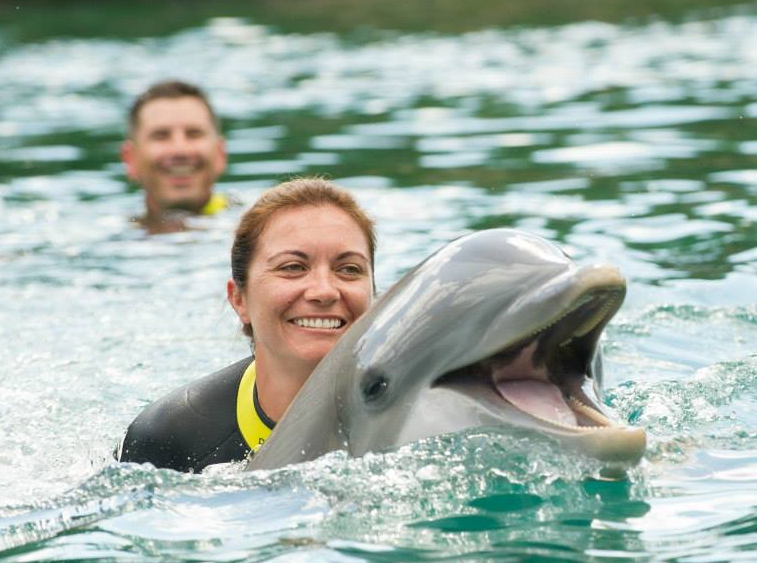 Details
---
This program will get you face-to-face with an Atlantic Bottlenose dolphin. During your session you will learn all about these underwater mammals in an interactive workshop led by highly educated trainers.  You will then enter the saltwater lagoon and meet your dolphin pal.  You'll be able to hug, kiss, rub, pet, and get up-close to the dolphin in this heart-warming program. If you are comfortable in deep water, you can partake in an opportunity to be whisked away by a dolphin as it carries you across the water and get to swim with the dolphins from the deep end of the lagoon to the safe shoreline. If you are not comfortable in deep water, you will have the opportunity to get a special hug or rub from the dolphins. These special behaviors are perfect for non-swimmers. After your dolphin interaction, spend the rest of the day exploring the many amenities that are offered, from unlimited food & drinks to endless swimming and relaxing at the Orlando dolphin facility.
Included:

A 20-minute educational classroom presentation prior to entering the water.
A 30-minute deep water experience including touching, playing and training with a dolphin. Swimmers and non-swimmers are in the same group during this part of the dolphin interaction.
For swimmers, you can swim into deeper water for the opportunity to get a dolphin dorsal fin ride across the saltwater lagoon.
For non-swimmers, you will have an opportunity to a special hug, hold or rub down of the dolphin.
Each dolphin session is unique, based upon the guests and dolphins.
Personal photo & video opportunities with a dolphin to purchase afterwards.
A wetsuit and life jackets will be provided.
Free snorkel gear, sunscreen, lockers, towels, changing facilities, and parking provided.
Snorkel among thousands of tropical fish and rays.
Come eye-to-eye with sharks through a 10-foot-tall panoramic window.
Encounter playful otters, curious marmosets, and hand-feed exotic birds.
Enjoy white sandy beaches and freshwater grottos.
Float along a scenic crystal-clear river.
Freshly prepared breakfast and lunch.
Unlimited snacks and beverages, including beer, wine and frozen drinks.
Observer, Day Resort Guests have access to everything except admittance to the dolphin swim portion.
All participants must be 6 years of age or older.
Any participant within 6 – 12 years old must have a paying adult participant with them (An adult is anyone 18 years or older).
14 participants maximum per session.
Available:
The time slots are first come-first serve. The swims start at 10am and are every 1/2 hour during the day. If you arrive late, you will be given the last time slot of the day. No check-in after 1pm. We recommend arriving early to enjoy everything the park has to offer.
7:30am are when the Gates Open
First Come, First Served
Location:
The Dolphin Facility is next to Sea World Orlando with easy signage to find from all major highways and roads. You will get complete written directions with your online ticket.
Take the Plunge Today!
---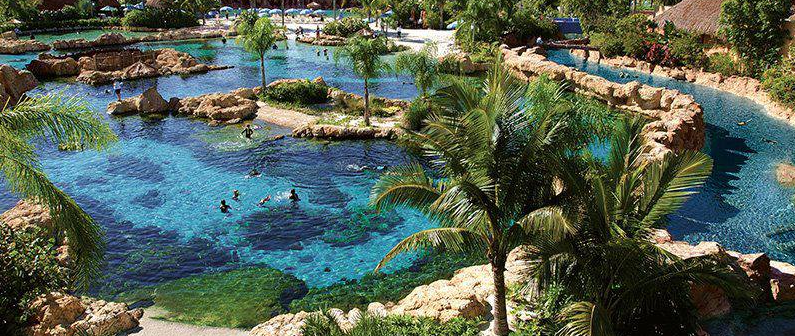 Driving Times:
These times are approximate from the locations listed below to Sea World / Discovery Cove area, depending on traffic and weather conditions:
Disney Resort – 30 – 40 minutes
Universal Resort – 30 – 40 minutes
Tampa Bay – 1 1/2 hours
Clearwater – 2 hours
Sarasota – 2 hours
Cocoa Beach – 1 hour
Daytona Beach – 1 1/2 hours
Transportation & Lodging

Free Bus and Van Transportation Available from Sea World Resorts.
Taxi, Uber/Lyft and private cars are other transport options.
Free Parking
Free Transportation with Lodging Package < Click to Check SeaWorld Hotel Packages >
Seasonal Rates
---
LOW SEASON RATE is from January to February, May, September to December
HIGH SEASON RATE is from March to April, June to August
Online Discounts
---
To save money, the best thing to do is visit during the low season. The rates do change throughout the year, so you will want to check them often. You will be surprised at the huge discounts during the low season.
Dolphin World Online Promotions:
To Get a 5% rebate check – you need to book your reservation by calling one of our representatives. Be sure to mention this promotion when you call.
Online Only – Florida Residence Rates – Save 10 to 20% for Florida Residence only < Click to Get Rates >
Extra Opportunities
---
Here are a few add-ons to consider:….
Pay an extra $20 – $30 per person and get a Sea world and Aquatica (an amazing water park) pass added to your reservation. If you book online, you will see Signature Dolphin Swim Package + 2 Parks. Make sure to click this option to see the pricing for your Discovery Cove Package (including the 2 parks). It is a great deal if you have the time.
Trainer for a Day – You will get everything included with the normal Discovery Cove day package plus an exciting deep-water interaction with dolphins. (Private photo session with 2 dolphins included). Behind-the-scenes tour of all Discovery Cove support areas. Shadowing a trainer for the day. < Click to Get Rates >
Dolphin Swim Orlando
+ Full Day Amenities
FROM $275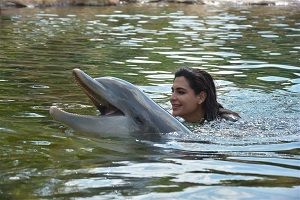 Observer + Full Day Amenities
FROM $225