Orlando Swim with Dolphin Tickets and Tours
Important advise to dolphin lovers:
book early… there are a lot of you out there! 1-407-378-7808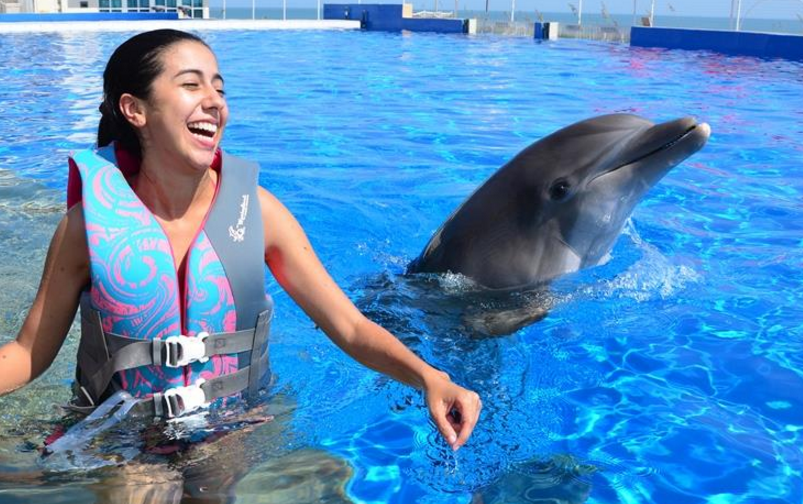 Pricing
---
Dolphin Encounter (non-swim) Adult – (54 inches/137cm and above)
$145*
Dolphin Encounter (non-swim) Child – (40 inches to 53 inches)
$145*
Adult Observer – (13 years +)
$20*
Child Observer – (5 – 12 years old)
$20*
Baby Observer (0-4 years old)
FREE
**Plus 7% sales tax & 6% Marineland Fee
This fee is imposed by the park and cannot be waived.
All Sales are Pre-Paid


St Augustine Beach
---
Take a short 2-hour car ride from downtown Orlando to South St. Augustine Beach to the state-of-the-art aquatic complex for your chance to get up close and personal with a dolphin. This thrilling program is safe and perfect for both young and old guests and anyone not comfortable swimming in deeper waters.
Availability
---
The Dolphin Swim Program in St. Augustine Beach is available 7 days a week, 365 days a year. Same day reservations are NOT advised due to space limitation. You will need to make your reservation either online or by phone at least 24 – 48 hours in advance.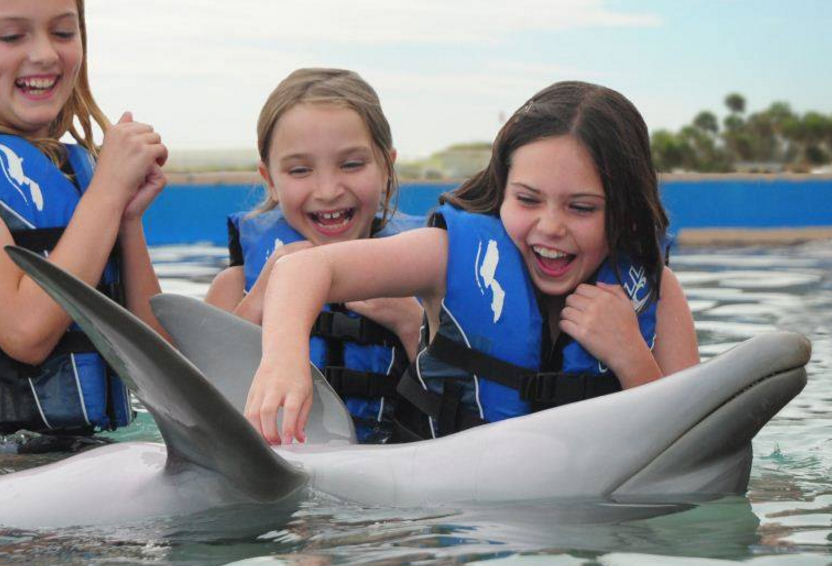 Details
---
You will learn about these underwater mammals in an interactive class that teaches about dolphin behaviors in the wild. When it's time to interact with the dolphins, you will be safe in water that is only waist deep. From here you can touch, feed, play and help train the dolphins.
You'll become part of the dolphins' watery world as you step into their habitat with a trainer and for 30 exhilarating minutes, see what it's like to interact with some of the funniest and most intelligent animals on the planet. After your dolphin encounter (non-swim), you will spend some time exploring the animal exhibits and photo lab at the St. Augustine facility.
Included:

A 15-minute educational classroom presentation prior to entering the water.
A 30 minute shallow water experience including touching, holding, playing, feeding and training with a dolphin.
All participants must be 40 inches (3 feet 4 inches /101cm) & a minimum of 3 years old.
Any Child Participants under 40 inches (3 feet 4 inches / 101cm) and between 3 – 4 years old must be accompanied by One (1)  paying participants over age 18. This child would be Free of cost.
Any Child Participants between 40 inches (3 feet 4 inches / 101cm) and 53 inches ( 5 feet 5 inches / 134cm) must be accompanied by one (1) paying participant over age 18.
Please note: Children under 40″ may need to be held and may not be able to complete all behaviors.
Anyone 54 inches (4 feet 6 inches / 137 cm) and over in height must pay the ADULT RATE and can participate alone without an adult (18 yr +) in the water with them.
Anyone from 3 to 4 years old there is no charge, FREE.
All participants must wear a life vest during dolphin programs.
Wetsuits are provided if needed (winter months). Guests should bring their own bathing suits & towels.
Free Lockers, showers, and changing rooms available.
Complimentary admission to all animal exhibits.
Observer will get to watch the person in the water plus get a behind the scenes tour of the facility.
Must be able to understand directions given in English or have a paid family member or friend in the water to translate.
20 participants maximum per session.
All tickets include 7% sales tax and 6% Marineland Park Ticketing Fee. This fee is imposed by the park and cannot be waived.
Open 365 Days a Year.
Available:
Each dolphin session is 30 minutes. But remember to include time for an educational briefing, animal exhibits, changing time, & reviewing your photos. Total time of activities is about 1 – 2 hours.
9am – Morning Session
1pm – Afternoon Session
Location:
The Dolphin Facility is on South St. Augustine Beach. You will get complete written directions with your ticket.
Meet Your Dolphin Friend Today!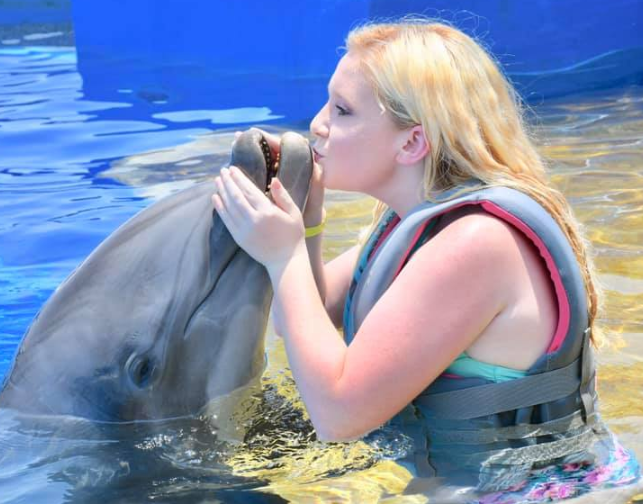 Driving Distances
---
These times are approximate from the location listed below to St. Augustine Beach, depending on traffic and weather conditions:
St Augustine City Center – 30 minutes
Daytona Beach – 1 hour
Jacksonville – 1 hour
Orlando City – 1 1/2 – 2 hours
Walt Disney World – 2 1/2 hours
Tampa – 3 1/2 hours
Sarasota – 3 1/2 hours
Photography
---
If you have an observer in your group, they can take photos and videos of you during your dolphin program. Observer must stay in the observation area. There will be a professional photographer taking photos (no video) of you and your group with the dolphins.
NO cameras allowed in the water with the dolphins.
Online Discounts
---
Save money by making your reservation online. In order to get any advertised discounts, you must type the Online Discount Promotional Code in the comment box of the reservation form. After selecting the amount of participants/observers, date of travel and time of program, you will be taken to the reservation form.. These online promotions cannot be combined with any previous orders or discounts. These discounts are for online orders and the discounts can be honored over the phone with a Dolphin World representative if you mention the discount code to them.
 Make your reservation online and get 2.5% OFF each person. CODE: staugustinebookingspecial
Early Bird Special: Make your reservation online 8 days or more in advance and get 5% OFF each person. CODE: online5%off

Dolphin Swim Adventure
FROM $175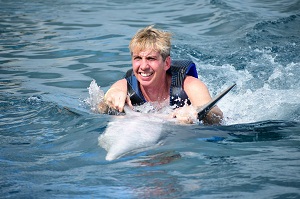 Dolphin Encounter (non-swim)
FROM $145