Orlando Swim with Dolphin Tickets and Tours
Important advise to dolphin lovers:
book early… there are a lot of you out there! 1-407-378-7808
Come On and Take the Dolphin Plunge Today!
---
Your vacation only comes around once in a while. So stop taking unmemorable, mediocre vacations and create a vacation that will make BIG waves! The Orlando area dolphin programs offer the adventure of a lifetime. Plunge into the crystal-clear waters and into the remarkable world of these powerful marine mammals. You'll come face to face with bottlenose dolphins and other majestic cetaceans that will leave you amazed. If you've been wondering, "Where can I swim with dolphins in the Orlando area," you've come to the right website.
Orlando Swim with Dolphin Tickets and Tours
---
You have come to the perfect place to get tickets to interactive dolphin programs in the Orlando, Florida area! Our customers have a great time with the dolphins in Orlando and nearby St. Augustine Beach, only 2 hours away by car. We have been providing dolphin swim tickets and tours for over 20 years now, so you can rest assured you will have the time of your life!  But don't take our word for it, read some Trip Advisor reviews about our two facilities (SPOILER ALERT: people have an amazing time!) and then take the next step and book your visit quickly because spaces are limited. < READ REVIEWS >
Transportation
---
Do you need transportation? Everyone seems to be using Uber or Lyft or a Local Taxi for their transportation needs. Discovery Cove in Orlando is in a central location of Orlando, 30 minutes from Disney World and 20 minutes from Universal Studios. If you want to come to the St Augustine location, you will need to have a vehicle of some sort, your own vehicle or rent one for the day. The drive from Orlando to St Augustine is about 2 hours. Once you make your reservation, we will send you a complete ticket by email and text with driving details so you can not get lost. Remember, the programs goes on rain or shine. < Click for Policy >
Dolphin Swim Orlando
FROM $275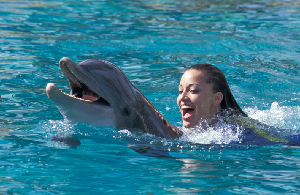 Dolphin Swim St Augustine
FROM $175